Owain Harris is a self-taught woodworker who operates a one man studio in Gonic NH where he builds custom furniture and cabinetry. He began his career in wood as a framing carpenter in 1997 and after several years working as both a finish carpenter and remodeler, he entered the shop full-time as a cabinetmaker in 2008.  He is a juried member of both the League of NH Craftsmen and the New Hampshire Furniture Masters Association. His work has been featured in many publications such as Fine Woodworking and NH Home, and has received multiple awards, most recently in the Furniture category of the Veneer Tech Craftsman Challenge. Owain shares his passion for furniture making and design through writing and teaching, primarily as an instructor at the Center for Furniture Craftsmanship in Rockport Maine.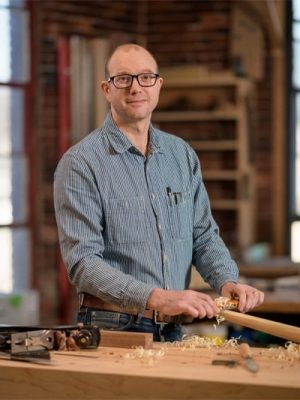 I never cease to be amazed by the ability of wood to be both transformed and transforming. As I have spent the last decade learning to work wood, so too has it shaped who I am today. My journey as a craftsperson has always been an attempt to reach that impalpable position of mastery. I suspect it shall always feel just out of reach, but that is what keeps me returning to the shop day after day. The hope that this next design, this next piece, this next joint will be the one that explains everything to me.
 I make furniture and I suppose that makes me a furniture maker. I have never been completely comfortable with the idea that it makes me an artist. It certainly makes me an artisan, and that's a term a man can hang his hat on. I use solid wood as well as natural and dyed veneers to create a sense of drama that is punctuated with playful whimsey. I enjoy experimenting with proportion and asymmetry to create pieces that I describe as having "approachable elegance". I think of it as furniture that is serious, but doesn't take itself too seriously.